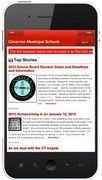 WE'RE NEW, IMPROVED, and MOBILE
Welcome to the new GMG Community School District's web site. We have been working hard for the past few months to redesign the web site, and we will be making additions over the course of the next several weeks and months. . . .

....the Activities Calendar is the Answer
Check out the Calendar tab at the top of the site. This tool: provides up-to-date school activities and events allows you to view weekly or monthly list of calendar events includes a . . .